Why sustainability matters more than ever before in the farming and meat industries.
Sustainability is a common buzzword of the 21st century. In fact, we hear talk of sustainability so often that it can be easy to forget what the word actually means, why it's important, and how it applies directly to our day-to-day practices.
If you're involved in the meat industry in any way, chances are you already know that sustainability is a critical factor in the future of animal products. The growing world population and increasing presence of meat in the average diet means that global meat demand is expected to rise 70 percent by the year 2050. In the face of rising demand, growing concerns of environmental conservation mean that farmers and producers will need to come up with ways to increase their production using the same amount of resources.
Take a closer look at sustainability in the meat industry and how it relates to your own practices.
What Is Sustainability?
When it comes to the production of animal products and farming practices, sustainability can be understood on three levels: social, economic and environmental.
Social sustainability refers to the ways in which farmers practice animal handling to promote the improved health and welfare of their animals. The National Farm Animal Care Council released an updated code of practice for the care and handling of beef cattle in 2013, which describes low stress, behaviour-based cattle handling techniques. Calm and healthy cattle are more productive than others, but the code also states that even less valuable cattle, such as chronically ill animals or cull cows, must be treated properly.
Economic sustainability is at the top of mind for the majority of farmers. Financially speaking, the best profits can be seen when production is increased without an increase in overhead. Practically, this means improved animal health at lower feeding costs, especially during winter months when feeding costs can be at an all-time high.
Environmental sustainability refers to efficient grazing practices, protecting riparian areas and farming in a way that allows harmony with wildlife.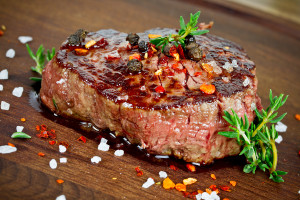 A Better Product with the Same Resources
Because of the focus on sustainability in the farming industry, new tools are becoming available that allow farmers to produce better products with the same resources. The ability to monitor livestock performance, track records both on and offline, and gain a deeper understanding of your herd or flock is what will differentiate one farm's product from another.
That's why bioTrack offers a livestock management software that functions both on and offline, simply syncing your records once you're back within range. The capacity to work offline, plus the new responsive design of the software, contributes to better organization and secure record keeping. Such aspects are what allow farmers to make better business decisions, select the best herd sire, and understand which animals are high performers. Ultimately, bioTrack allows farmers to increase their productivity without investing in significant overhead — exactly the goal of economic sustainability.
Large Buyers Shifting to Sustainability
Across the world, the concern for sustainable meat is rising, and it's not just on the minds of small-scale buyers. International megacorporation, McDonald's, which bought 70 million pounds of Canadian beef in 2013, announced that they're committing to purchasing verified sustainable beef by the end of 2016. And they're not the only large company focusing on sustainability. McDonalds is a founding member of the Global Roundtable for Sustainable Beef, a multi-stakeholder initiative focused on improving global beef sustainability. Other members include Cargill, JBS, Walmart and Elanco.
Conclusion
With a booming global market for sustainable beef, Canadian producers already have a good foot in the door. Canadian initiatives make the nation among the top leaders in the shift towards sustainable products.
Small, medium and large-scale farms will need to make the transition to sustainability in order to remain relevant and in demand. Investing in the right management tools can allow farmers to understand what sustainability means for them and how to increase their own efficiency without raising production costs. Sustainable farming practices aren't only appealing to consumers; they're also essential in keeping costs down while raising profits.
How has sustainability affected your farming practices, and how do you currently make an effort to be sustainable? Tell us in the comments below!