Mark of Excellence
Dr. Steve Miller receiving the Mark of Excellence Award from AgSights President Mike Buis in recognition of twenty-four years of inspired leadership.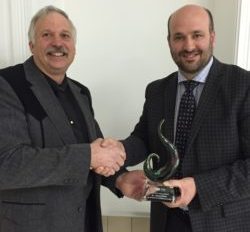 Dr Steve Miller, Director of Genetic Research at American Angus Association was recognized yesterday at AgSights's annual meeting for twenty-four years of inspired leadership with the prestigious Mark of Excellence.  The Award is named after Mark Warren, a progressive beef producer committed to genetic improvement who unfortunately fell victim to a farm accident.  The Mark of Excellence is awarded infrequently for exemplary contributions to livestock improvement.
Dr Miller has been involved with Beef Improvement Opportunities for close to twenty-five years, first as a graduate student working on a multi-breed genetic evaluation system and later as a post Doc developing a bioeconomic model to be used in calculating customized economic indexes.  Over his career, Steve was also supported by AgSights as he gained his PhD and then joined the AgSights Board for many years while at Center for Genetic Improvement of Livestock, University of Guelph.   When he moved to a position at AgResearch New Zealand, Steve was appointed Genetic Improvement Advisor to the AgSights Board.  Upon his move to American Angus Association, Steve resigned as Advisor but is now a key collaborator with AgSights in several studies, including the new field of pooling genotypes to investigate traits of great economic impact.
When presenting Steve with the award, Mike Buis, AgSights President, noted Steve's unique ability to deal with leading science while also being adept at direct farmer communication.  Steve sets a very high bar for all with regards to collaboration for mutual benefit.  AgSights congratulated Steve on this well-deserved recognition and looks forward to another twenty-four years of productive working relationship.
Past Recipients
Year
Recipient Name(s)
1993 – 2007
Vern Burnett
Chester Patton
Hilbert Van Ankum
Angus Campbell
Harvey Graham
Dave Pease
Donald Hargrave
2007
Jim Duffin
2011
Ron Wooddisse
2012
Guy and Susan Johnson