Go360 bioTrack
As a farmer, do you wish there was an easier way to collect and share information about your herd or flock with people who care? Do you find yourself wishing there was less guesswork involved in understanding the performance of each animal, but not wanting to sacrifice your time in the barn or field in exchange for time sitting at a computer? Go360 bioTrack is here to help!
What Is Go360 bioTrack?
With Go360 bioTrack, you can gain all the advantages of secure and accurate record keeping at your fingertips without having to become an IT specialist in the meantime. Our web-based livestock tracking and traceability system fits right into your existing tagging methods, providing you with anytime, anywhere access to herd and flock information without detracting from time in the fields.
The Go360 bioTrack Advantage
Go360 bioTrack is here to help farmers stay competitive in an industry characterized by continual change with one secure place for all of your management needs: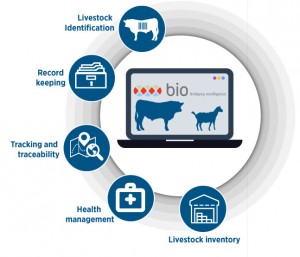 Livestock identification
Record keeping
Tracking and traceability
Health management
Livestock inventory
Take guesswork out of the equation with a precise understanding of what you can expect from your herd or flock while increasing your capacity for growing herd or flock value. Our database's grid format allows for instant and easy comparisons and effective decision-making, with customizable options to ensure that Go360 bioTrack works for you, not the other way around. Checking the health records or performance of your animals is now as easy as logging on to your email!
With Go360 bioTrack, your information is completely secure and backed up, taking the complication out of data management. Go360 bioTrack is designed to fit with your existing hardware, giving you the freedom to use your preferred livestock tagging and record keeping methods while deciding how Go360 bioTrack can help you, both on the farm and in business.